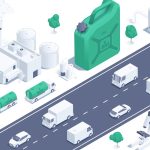 University of Central Florida researchers have achieved new record-setting power density for ethanol fuel cells, helping advance the technology as a competitor to fossil fuels and electric car batteries.
Ethanol fuel cells offer cleaner emissions than fossil fuels and no charging times compared to electric vehicle batteries.
In recent studies published in the journals Nature Communications and Joule, UCF NanoScience Technology Center Associate Professor Yang Yang and his team developed new catalysts to make direct ethanol fuel cells last longer and boost their power density to a record level.
Read article from UCF Today.
By Beatriz Nina Ribeiro Oliveira | August 9, 2023